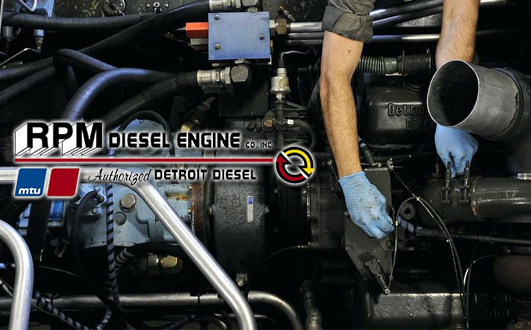 Since 1956, RPM Diesel Engine Co. serves all of South Florida. Over the years, diesel fuel injection has evolved. RPM's relationships with the leading diesel manufacturers has helped us stay on top of the latest developments. To provide the best diesel fuel injection service, our certified and insured technicians have to go through extensive training. We use cost-effective procedures to keep your diesel fuel injection service effective while keeping costs low. If you are looking for the most trustworthy Diesel Fuel Injection Service Company look no further than RPM Diesel!
You could be responsible for more expensive repairs if you do not schedule regular diesel fuel injection services. Make sure you only use the original equipment if your diesel fuel injection needs to be rebuilt or overhauled. RPM only uses parts and assemblies directly from the manufacturer. You can also disassemble the engine if it is delayed. It is important to clean the subassemblies thoroughly in order to remove any blockages or clogs that may have developed from poor maintenance.
Diesel engines are well-known for their reliability, but occasionally the diesel fuel injection service is not serviceable or beyond repair. We have strong relationships with all the major diesel manufacturers and can offer the best pricing for replacement pumps or injectors as well as the entire diesel fuel injection system. RPM is the best choice for diesel fuel injection service because we only use premium parts that are bundled with our diesel-type reliability.
RPM Diesel Engine Co. has evolved over the years to meet the changing needs of the Diesel Fuel Injection industry. Since our inception in 1950, we have strived to provide the best customer service and quality workmanship. We are proud of our relationships with the major diesel engine manufacturers all over the globe. We invite you to discover why our diesel fuel injection service is the best and most cost-effective. You will see why our diesel fuel injection service is the best choice for all your diesel engine-related needs. Although we are located in Fort Lauderdale, we serve all of South Florida with any diesel engine-related needs. RPM Diesel Engine Co. uses the most up-to-date diesel fuel injection techniques to ensure your diesel engine runs at its best. Our diesel fuel injection service will give you the best performance starting from the moment your engine was removed from its factory crate.
RPM will service your diesel fuel system using only original equipment parts and assemblies. All parts and accessories for your diesel engine are available at RPM. We have diesel injectors and pumps, as well as diesel turbochargers on hand to help you with your diesel engine. RPM Diesel Engine Co. can be reached for any questions regarding Diesel Fuel Injection Service. 800-660-6304
Diesel Fuel Injection Service Company
Facebook | Twitter | Yelp | YouTube