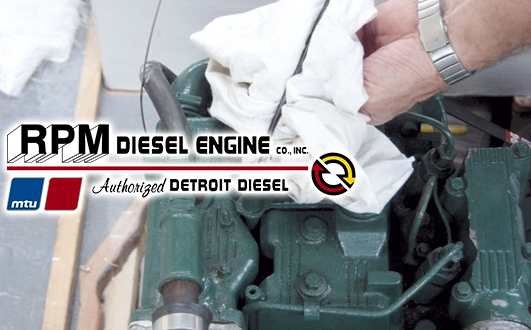 Whether you need Detroit marine engines parts or services, you'll find everything in one convenient location here. RPM Diesel Engine Company is Florida's top-rated authorized repair service provider. We also carry a variety of different Detroit marine engine service parts, which you can find below.
From routine maintenance to engine overhauls, fuel injection, and service parts, RPM Diesel does it all. Our ability to consistently deliver high-quality services coupled with our industry knowledge and experience has allowed us to gain a distinct reputation in the South Florida community. Come by and visit our facility or call 800-660-6304 to speak with an expert diesel specialist today. Or learn more by visiting our site here: RPM Diesel Engine Company, INC.
Detroit Marine Engines Parts
Detroit Marine Engines Oil Filter – (23530408) – $29.56
Detroit Marine Engines Oil Filter Element (23530573) – $23.44
Detroit Marine Engines Fuel Filter – Primary (23530647) – $10.04
Detroit Marine Engines Fuel Filter – Secondary (23530707) – $11.20
View all of the service marine engine and diesel generator parts we carry here.
Detroit Marine Engines Repair
You chose Detroit Diesel because you know its a name you can trust. The same should be true for your service provider. Don't entrust your Detroit marine engine to anyone. If a diesel mechanic begins to perform even a minor repair on your Detroit diesel engine, there are certain protocols that need to be met. Our skilled diesel mechanics understand the importance of adhering to the manufacturer's specifications. That is why every repair we perform strictly follows those instructions, no matter how minor.
Read more about our marine engine repair services here.
Dockside Services for Detroit Marine Engines
Routine maintenance is an absolute must for any Detroit Diesel engine owner. Our dockside services for Detroit marine engines covers all your routine maintenance needs and makes scheduled maintenance as easy as possible. Our mechanics have a fleet of well-equipped service trucks at the ready and will come directly to your location for added convenience. We come with all the right tools, service parts, and professional experience, ensuring we can handle any problem you might have.
Read more about our dockside maintenance services for Detroit engines.
Facility
RPM Diesel Engine Company, INC. is located in Fort Lauderdale Florida on W State Rd 84. We have accumulated half a century of industry experience as a business and are one of the only authorized Bosch common rail service providers. Call 800-660-6304 to schedule an appointment or to speak with a diesel mechanic when you need to. If you have any other questions, please contact us.
Facebook | Twitter | Yelp | Google+ | YouTube
Detroit Marine Engines
2,529 total views, 5 views today