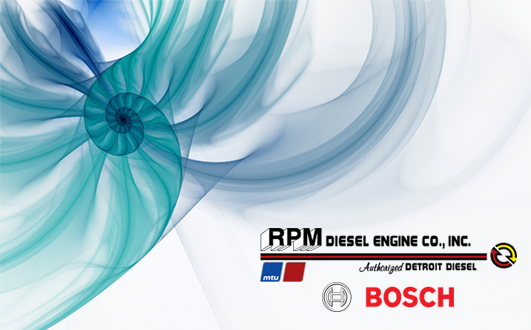 RPM Diesel Engine Co. has a team of proficient marine diesel engine specialists that can assist you with a medley of services. We have extensive experience working with Bosch diesel fuel injectors. Bosch diesel fuel injectors have become well-known for their high standards of quality and continuous diligence toward improvement. RPM Diesel provides our clients with Bosch diesel fuel injectors parts and services provided by factory certified professionals. RPM Diesel Engine Company has forged alliances with some the top manufacturers of marine diesel engines and parts in the world. We choose to operate with reliable and well-known brand names in order to ensure that we are serving our customers with nothing short of the best marine diesel engine technology on the market today. We are centrally located in South Florida at 2555 W State Road 84, Fort Lauderdale 33312.
Bosch diesel fuel injectors are regarded as some of the most efficient and powerful in their class. Bosch became an industry leader among other marine diesel engine parts manufacturers for their ongoing efforts to improve upon their existing technology and bring more efficient systems onto the market. Their dedication to improving the efficiency and overall performance of their Bosch diesel fuel injectors is highly evident today and tremendously paid of for Bosch. RPM diesel is proud to be an authorized distributor and service provider of Bosch parts and Bosch diesel fuel injectors. Some of the products that we carry include Bosch nozzles, common rail injectors, diesel injection pump components, high-pressure pumps, and more.
RPM Diesel Engine Co. is the one stop source when you are looking for a quality Bosch diesel fuel injectors maintenance, sales, and repair provider. All of our marine diesel engine technicians have extensive experience and are constantly working to keep up with the latest information on diesel engine technology advancements and components. Our team is consistent about staying up to date with the latest information on Bosch diesel fuel injectors as well as the products for the various other brands that we provide parts and services for. Besides providing professional services for Bosch diesel fuel injectors, RPM Diesel Engine Co. also works with top marine diesel engine manufacturers such as:
Delphi

Stanadyne

Northern Lights

Alliant Power

Garrett

Holset

Zexel

ADS

Westerbeke
RPM Diesel Engine Co. can provide you with on site services. We have been providing industrial marine diesel engine maintenance, overhauls, and repairs for various clients worldwide for years. When you work with RPM Diesel you are choosing a company that takes pride in working with the best marine diesel engine technology on the market. We are regarded industry leaders and are confident that our knowledgeable service technicians can assist you with any needs regarding Bosch diesel fuel injectors or any other marine diesel engine maintenance or repair. Contact us today if you have any inquiries that you need to be addressed or would like to schedule service with us, and one of our erudite engineers will expertly assist you.
Bosch Diesel Fuel Injectors
1,333 total views, 1 views today