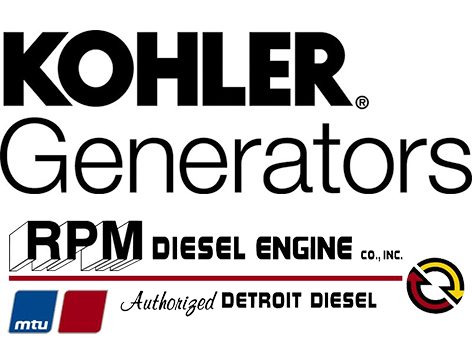 Kohler Generator Service
RPM Diesel Engine Company has been servicing all types of Marine Diesel Generators and Marine Diesel Engines in the South Florida area since 1956. We have a staff of highly trained marine diesel generator specialist that will come to your boat or home. Our Kohler Generator Service will tackle any issues plaguing your marine diesel generator. Every year our staff of marine diesel techs undergoes extensive continuing education for their specific disciplines whether marine diesel generators or marine diesel engines. Manufacturer training is crucial to staying on top of the latest trends for improving and maintaining any type of diesel powered generator or engine.
Our niche of offering the absolute best service for diesel engines, generators plus stationary power systems. We do new installations, repowers and full overhauls and routing diesel generator and engine maintenance. Our Kohler Generator service will keep your generator running at peak performance ensuring that downtime is not an issue whether at sea or the dock. Our extensive parts department has a complete stock of kohler generator parts that will keep you up and running. In the marine environment having a few spares around for common diesel generator parts is a wise and common practice. Experienced
RPM Diesel Engine Company's Kohler generator service is designed to keep you going so you can get the most out of your Kohler generator with a routine maintenance schedule. Having your Kohler generator on a regular schedule will extend the life of your generator and it also permits your generator to operate at its peak performance. RPM has designed the ideal preventive diesel generator maintenance plan where your service schedule is done according to diesel generator engine hours or a time frame. Seasonal maintenance is also used more frequently in harsher wintery environments. Your diesel generator maintenance should also take into account of how your run and plan to use your generator. Dusty and sandy environments will also take a greater toll on your diesel generator's overall health. These types of rigorous environments just need to adjust their frequency of scheduled maintenance. South Florida falls under these condition as the heat and salt will require your generator to have additional checkups.
General maintenance from any diesel generator manufacturer include thorough inspections that will service: Your fuel system, coolant system, lubrication system, Air System (Combustion & Cooling Air), Starting System, Alternator and the transfer switch.
Keep in mind that RPM Diesel Engine Company also has a full service Diesel Engine Department. We do complete Diesel Engine Overhauls as well as diesel engine maintenance. Our fuel injection service for diesel engines is impeccable. Another part of our diesel engine department is our turbocharger service which will help you get the most power and performance out of your marine diesel engine. We also have one of the largest in stock supplies of diesel generator and diesel engine parts.
Give us a call if you have any questions about anything Diesel Generator or Diesel Engine related, especially for your Kohler Generator Service.
Kohler Generator Service
885 total views, 1 views today