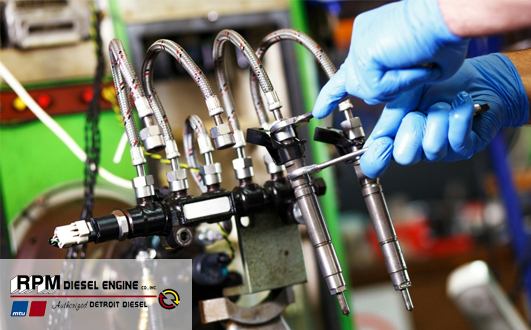 Bosch repair service can include rebuilding, testing, and repairing the fuel injectors in the common rail fuel system. The common rail fuel injection system is a vital part of many diesel engines.
This revolutionary fuel injection system offers users multiple benefits and Bosch is known for their reliability and durability. In order to keep the fuel system performing at peak condition, it is important to regularly perform common rail service and diesel fuel injection maintenance.
By ensuring that issues are diagnosed and properly addressed, you can continue to enjoy your diesel engine for years to come. Unfortunately, many people attempt to save money and perform maintenance themselves or hire an untrained mechanic.
Some even will wait until the engine fails to seek assistance. All of these can end up costing you far more than routinely servicing the engine or seeking professional assistance when an issue arises with your Bosch common rail fuel injection system. 
 RPM Diesel is one of the top providers of Bosch authorized repair services in Fort Lauderdale and employs a team of skilled technicians trained to diagnose and service your Bosch common rail system. Continue reading to learn more about our common rail injector services or contact RPM Diesel today if you have any questions. 
Bosch Common Rail Injector Testing
One factor that makes us the premier choice for common rail repair services is our access to the top-of-the-line common rail testing benches. We are one of the few companies with access to the Bosch EPS 815 Common Rail Test Bench in South Florida.
This allows us to test the common rail onsite and ensure accurate diagnostics of any issues. The test bench can run diagnostic tests on Bosch injectors that include: CRI, CRIN, CRIN I, II, III, IV, CP1, CP2, CP3, and CP4 common rail fuel pumps. 
This allows us to perform the highest quality Bosch repair service in the South Florida area. Our technicians are fully trained and certified to work with the Bosch EPS 815 Common Rail Test Bench ensuring any issues are identified and fixed before they become a problem.
Instead of DIY jobs or hiring an unqualified mechanic, depend on the expertise of RPM Diesel.
Bosch Injector Repair Service in Fort Lauderdale
Once the issue is identified with your Bosch common rail fuel injection system, the technicians at RPM Diesel can perform necessary repairs. Some of these repair services can include refurbishing, cleaning, rebuilding, and even assembling the common rail system based on a manufacturer's specifications.
The Bosch repair service we conduct are all performed inside a certified cleanroom that follows Bosch regulatory standards and uses HEPA filtered air for quality assurance. RPM Diesel is proud to employ a highly skilled team of technicians that have achieved Bosch training certifications ensuring the highest industry standard.
By combining extensive training, innovative testing software, and 500+ shim sizes we have acquired a level of unprecedented precision. Instead of waiting for an issue to become serious contact RPM Diesel to schedule a Bosch repair service today. You can contact our expert technicians directly by calling 800-660-6304. 
Facebook | Twitter | Yelp | YouTube
Bosch Repair Service
2,079 total views, 1 views today