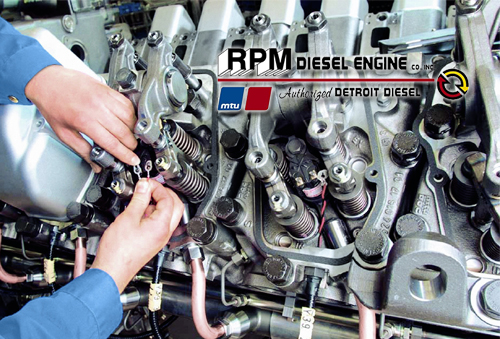 Diesel Engine Overhauls
Diesel Engine Overhauls for Marine Vessels are no simple feat and you should trust the mechanics of RPM Diesel for this type of work.
RPM Diesel Engine Co offers these services as well as many others for your diesel equipment. In fact, RPM Diesel has spent the past sixty-four years building a reputation as the most reliable and knowledgeable diesel repair and maintenance shop on this side of the United States. That's right, we have been working with diesel engines since 1956! Your marine vessel or boat is powered at its heart by a strong diesel engine. These machines by their very nature are inclined to be self-damaging and succumb to breakdowns, especially if not maintained properly. Though some problems are inevitable, most issues can be mitigated by performing regular maintenance or upgrading the engine itself. These upgrades are referred to as an "engine overhaul"  and are one of the more advanced services we perform at RPM diesel. Read on to learn more about this service, and why we think you should consider it if you own a marine vessel!
The main reasons to get an engine overhaul on your boat are:
Improved fuel efficiency!
Increased engine performance!
Cheaper than a full replacement!
The reason you may need to consider this for yourself is primarily due to age and wear. Over time, diesel engines suffer from hours of use and will begin to falter in performance, particularly in the categories mentioned above. Rather than spending a small fortune during the process of an overhaul, your engine is taken apart and every component cleaned. Next, an assessment of wear and tear is made on the newly cleaned engine. at this time components that have reached their limit should be replaced with new ones. This kind of service is complex and time-consuming, and if you choose to do an overhaul know that its best to take care of every single replacement part at once for cost-effectiveness. Some of the overhaul processes might include:
Governor rebuild
Pressure testing of the Water Jacket
Cylinder head valve, seat grinding, and rebuild
Valve cam grinding
An Engine Overhaul will breathe new life into your marine Vessel. For more info on this service, or any of our other services. Contact RPM Diesel today at: 1-800-660-6304. Let us restore your boat to full operating power!
Related Media: Turbocharger Service and Installation
Find us on: Facebook | Twitter | Yelp | YouTube
333 total views, 1 views today